The holiest days of the year are fast approaching – Rosh Hashana, Yom Kippur and Succot.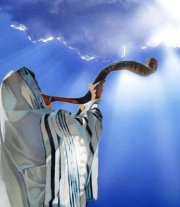 Each year, at this time, Yad Ezrah works tirelessly to collect, prepare and deliver large and abundant food packages to thousands of poor families across Israel in time for Rosh Hashana and Succot.  This is a vast undertaking, felicitating the help of volunteers and food venders who open their hearts to their brothers and sisters throughout Israel.   But it starts with YOU.
These families do not cry over spilled milk.  They cry because they cannot afford milk.  In many cases, the only thing in their fridge is the light bulb.   With the High Holidays coming, they look to Yad Ezrah to provide meals on Rosh Hashana, Shabbat Tshuva, Erev Yom Kippur, Motoei Yom Kippur, Shabbat before Succot, the entire seven days of Succot, Simchat Torah, and Shabbat Bereishet.  These are families that we know personally – families that struggle to earn a living but don't succeed in reaching their financial needs each month because of physical or emotional problems within the family that must be addressed, making the burden so much more direr.
Through your great efforts on behalf of these needy families, you will literally fulfill the bracha we pray for on Rosh Hashana and Yom Kippur – L'Sova V"lo L'Razon – that we should be blessed "to be satisfied and not hungry".
Please join us in this great mitzvah, at a time where we pray for blessings of health, wealth and happiness in the coming new year.   May we merit to bring those same blessings to the needy and poor of Israel and be rewarded in kind by the King of kings.